Anything boys can do, girls can do better, too!
Mattel, the company that brought us Barbie, is introducing new President and Vice President Barbie dolls.
The doll is said to represent Barbie's first all-female ticket, meant to expand her career opportunities to more inspiring and empowered roles, according to a press release.
Barbie partnered with She Should Run, a "non-partisan organization dedicated to expanding the talent pool of future elected female leaders," to create these new White House dolls. The duo hopes that by working together, they can create more products that will enable dialogue between parents and young girls about their future as leaders.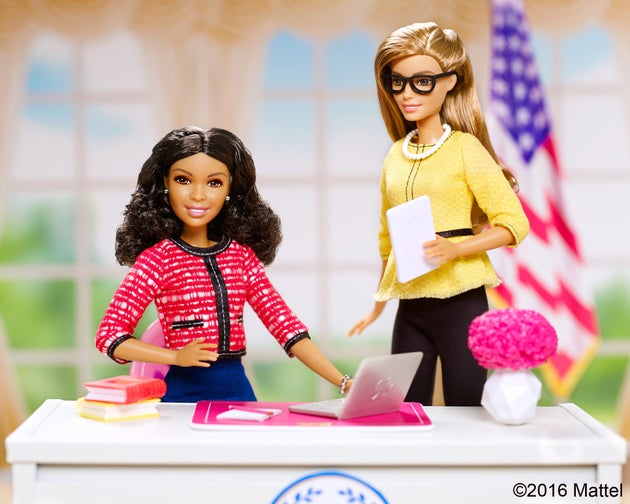 Erin Loos Cutraro, co-founder and CEO of She Should Run, said in a press release that she believes "our country will benefit from having a government with varied perspectives and experiences" and feels that the new dolls will "encourage girls everywhere to unlock their leadership potential."
Here's Mattel's video of a little girls' dream of leadership being "played out through Barbie."
Barbie has run for president in the past, but this is the first time she's doing it with another lady by her side: Vice President Barbie. The set is said to "emphasize what Barbie enables— allowing girls to reach their limitless potential by playing out commander and chief."
This Barbie set comes on the heels of Mattel's launch of the "Shero" campaign – a celebration of women who "like Barbie, have broken boundaries, challenged gender norms and proven girls can be anything they want to be. Thus far, they've made dolls resembling Olympian Gabby Douglas, Misty Copeland, Ava DuVernay and Emmy Rossum.
You can snag the POTUS and VPOTUS dolls together in a variety of hair colors, skin tones and face shapes for $24.99 on Shop.Mattel.com and at retailers nationwide.
Read more: http://www.huffingtonpost.com/entry/new-president-and-vp-barbies-show-girls-can-run-the-world-too_us_57864fe5e4b08608d3325cf6?section=